From The ROCK & ROLL Hall Of Fame Capital Of The World Extravagant Launches Leo's Casino Radio
Extravagant Care Services, Inc, a not-for-profit, 501c3 organization announces a free Continuous Radio Broadcast and live event BROADCASTING: LEO'S CASINO RADIO, Go to: www.leoscasinoradio.com.
Leo's Casino, was a premier nightclub at 7500 Euclid Ave, in the heart of the Midtown community, Cleveland Ohio, where local and national Rhythm & Blues artists performed, including Marvin Gaye, the Supremes, the Temptations, and many others.
Our radio station is in honor of this renowned venue known for its racial diversity during the tumultuous 1960s riot in Cleveland Ohio.
During these racially intense times, our community is saddened by the loss of George Floyd's life and lives like his! Events like these leave many in our neighborhood feeling angry, helpless, and defeated. Intolerance from any source is wholly unacceptable.
This station is unique to the nation because of the historic nature of this renowned venue. However, it is also unique to the Cleveland community due to the historic events surrounding the venue's existence, the Hough riots.
Mary Wilson singer with The Supremes stated, "The world felt like it was falling apart, and yet in Leo's you'd have everybody singing together — black and white, full of love and joy for music." The Hough riots had gutted the neighborhood. The race riots and a week of arson, bombings, and violence resulted in four deaths, dozens injured, and 300 arrests. The episode turned America's racial divide into an open wound.
But Leo's Casino seemed like the last place on Earth touched by it all — where music played even as the fires raged.
America might have been segregated, but Leo's Casino was where people came together. Leo's was part of that golden moment in time where music showed Americans what we had in common.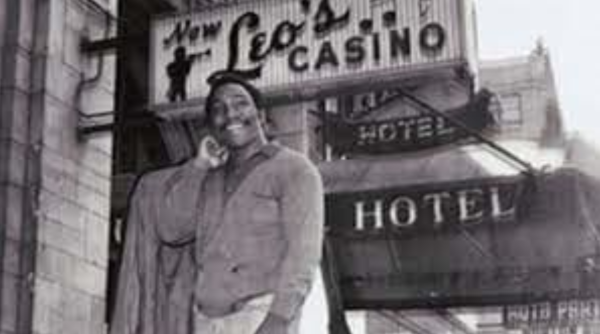 Photo credit: Western Reserve Historical Society, Cleveland History Center
Leo's Casino Radio was also created to allow youths to understand our challenging racial history and appreciate the music that mapped the way to the music they enjoy today. They can learn the music's history, the song's writers and performers,s and tie the information directly to their favorite musical artist who are sampling these songs today. Our station also broadcast feature stories of the Cleveland experience, discussing historic events people, and locations. For older ones that attended a concert at Leo's Casino or who heard about the events there or simply enjoy the Motown sound, blues, jazz, and R&B of the 60s, 70s, and 80s, they can appreciate and enjoy the 24 hour/7 day station.
As a tax-exempt organization, we appeal to all who stand for social justice, abhor hate crimes and believe in equal rights for all, to support our effort with your kind donations. Your contributions will allow us to expand our services for Equal Justice through our radio station and our mobile app, THE KOOL LINE.
Go to https://www.extravagantcareservices.com to donate.
Media Contact
Company Name: Extravagant Care Services, Inc,
Contact Person: Ron Fuqua
Email: Send Email
Country: United States
Website: https://www.extravagantcareservices.com