Electric Motor Market Size, Share, Latest Trend, Top Companies, Regions, COVID-19 Impacts and Growth Forecast Report, 2030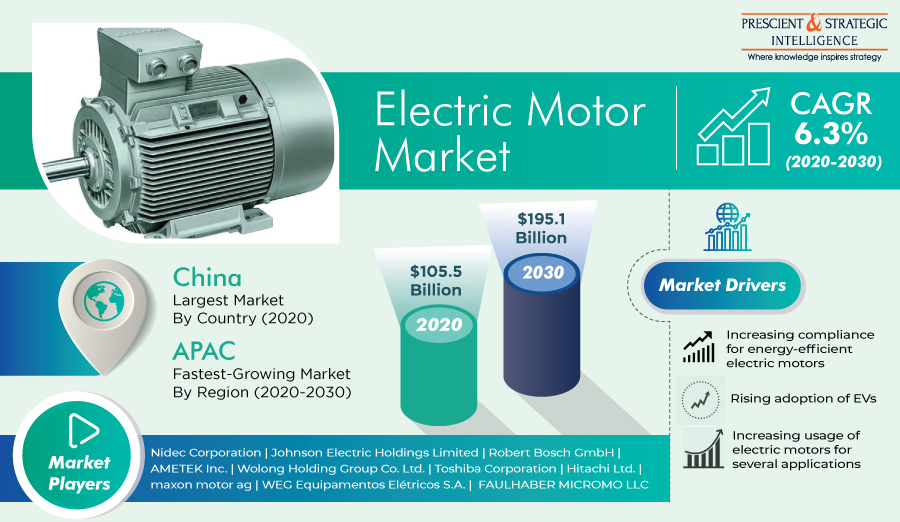 Globally, Asia-Pacific was the largest contributor to the electric motor market in 2020. This is mainly attributed to the fact that the region has a large number of manufacturing facilities in developing countries like China, India, Bangladesh, and Indonesia.
Factors such as the rising adoption of electric vehicles (EVs) and increasing compliance for energy-efficient electric motors are expected to propel the electric motor market at a CAGR of 6.3% during 2020–2030. According to P&S Intelligence, the market was valued at $105.5 billion in 2020 and it is projected to generate $195.1 billion revenue by 2030. At present, the manufacturing industry is opting for energy-efficient electric motors to reduce energy consumption and reduce operating costs.
The surging adoption of EVs is one of the key growth drivers of the market, as electric motors are their major components. As per the International Energy Agency (IEA), the global stock of battery electric vehicles (BEV) (cars) and plug-in hybrid electric vehicles (PHEV) (cars) will surge from 6,850,327 in 2020 to 79,975,992 by 2030 and 3,346,713 in 2020 to 44,355,904 by 2030, respectively. Furthermore, the total number of BEV (vans) and PHEV (vans) will escalate from 427,525 in 2020 to 11,041,648 by 2030 and 8,384 in 2020 to 1,959,625 by 2030, respectively.
Request for sample pages of this report: https://www.psmarketresearch.com/market-analysis/electric-motor-market/report-sample
The application segment of the electric motor market is categorized into medical, industrial, space, transportation, commercial aerospace, non-industrial robotics, defense, marine, and others. Under this segment, the transportation category generated the highest revenue in 2020, due to the surging adoption of EVs and booming demand for motor vehicles. The rising shift toward EVs can be attributed to the soaring public awareness about worsening air quality and increasing government support toward the EV industry in the form of tax rebates and subsidies.
In recent years, the companies operating in the electric motor market have engaged in product launches to consolidate their position. For instance, in February 2021, Johnson Electric Holdings Limited launched a new series of low-voltage DC motors for actuators used in hospital beds, smart recliners, height-adjustable desks, and other smart furniture. In the same vein, in June 2021, maxon motor AG introduced BIKEDRIVE Air, a 3.5 kg e-bike system that consists of an integrated battery, a mid-mounted motor, and a control element.
Additionally, the players in the electric motor market are also opting for mergers and acquisitions to gain a competitive edge. For example, in March 2021, AMETEK Inc. acquired Crank Software, EGS Automation, and Magnetrol International for $270 million. With the acquisition of Magnetrol International and EGS Automation, AMETEK Inc. aims to expand its level measurement solutions portfolio and widen its automation solutions portfolio. Furthermore, the acquisition of Crank Software offers graphical user interface design capabilities to AMETEK.
Browse detailed report on Electric Motor Market Trends, Forecast, Drivers, Restraints, Company Profiles And Key Players Analysis by 2030
Globally, the Asia-Pacific (APAC) electric motor market generated the highest revenue in 2020, and it is projected to showcase the fastest growth throughout the forecast period (2021–2030). This can be attributed to the presence of a large number of manufacturing plants in developing countries, such as Bangladesh, China, Indonesia, and India. Moreover, the mounting investments being made by the market players in the untapped markets of the region will also augment the demand for electric motors in APAC.
Thus, the burgeoning EV production and escalating demand for energy-efficient electric motors are expected to steer the market growth across the world.
Electric Motor Market Size Breakdown by Segments
By Application
Industrial

Oil & gas/downhole
Factory automation
Robotics
Equipment

Transportation
Non-Industrial Robotics
Medical
Commercial Aerospace
Space
Marine
Defense
Others
By Type
Direct Current (DC) Motor
Alternating Current (AC) Motor

Synchronous
Induction
Permanent magnet

Hermetic Motor
By Region
North America Electric Motor Market

By application
By type
By country – U.S. and Canada

Europe Electric Motor Market

By application
By type
By country – Germany, France, U.K., Italy, Spain, Russia, and Rest of Europe

Asia-Pacific (APAC) Electric Motor Market

By application
By type
By country – Japan, China, India, Australia, South Korea, and Rest of APAC

Latin America (LATAM) Electric Motor Market

By application
By type
By country – Brazil, Mexico, and Rest of LATAM

Middle East and Africa (MEA) Electric Motor Market

By application
By type
By country – Saudi Arabia, U.A.E., Turkey, South Africa, and Rest of MEA
Market Segment Analysis of Countries
U.S. Electric Motor Market
Canada Electric Motor Market
Germany Electric Motor Market
France Electric Motor Market
U.K. Electric Motor Market
China Electric Motor Market
Japan Electric Motor Market
India Electric Motor Market
Brazil Electric Motor Market
Mexico Electric Motor Market
Saudi Arabia Electric Motor Market
Browse More Related Reports
Stepper Motor Market – P&S Intelligence considers the burgeoning industrial production a key reason behind the growth of the stepper motor market size to $3.7 billion in 2030 from $2.5 billion in 2019, at a 3.4% CAGR between 2020 and 2030. Such motors allow for the accurate control of the motion speed and degree, which is why they are integrated widely in conveyor belts, product elevators and cranes, CNC machines, robots, and other machinery.
Electric Motor Market in Asia-Pacific – The escalating pollution levels and the rising need for energy conservation in the Asia-Pacific (APAC) region are pushing up the requirement for lower energy consumption, especially by high power-consuming industries. This is the key driver for the APAC electric motor market, as such devices account for nearly 70% of the total power consumption in a manufacturing plant.
Media Contact
Company Name: P&S Intelligence
Contact Person: Abhishek
Email: Send Email
Phone: +918887787886
Address:Noida Sector 2
City: Noida
State: UP
Country: India
Website: https://www.psmarketresearch.com/market-analysis/electric-motor-market