Healthcare Analytics Market To Grow With 21.5% CAGR By 2030, Owing To Technological Advancements & Massive Investments Into Healthcare Industry | Grand View Research, Inc.
According to a new report published by Grand View Research, The increase in capital investments by the healthcare industry in the IT sector for better management and cost-effective patient care are key growth factors for the healthcare analytics market.
Healthcare Analytics Industry Overview
The global healthcare analytics market is currently valued at USD 29.1 billion as of 2021 and is expected to reach USD 167 billion expanding at a CAGR of 21.5% from 2022 to 2030. The healthcare industry on the whole has been challenged with the issues like lack of better patient care, skyrocketing costs of treatment, less patient retention, and engagement and, thus healthcare analytics are being incorporated into every aspect of the industry to give better care to patients and for better operations of the industry. These factors are key reasons for the growth of the healthcare analytics industry.
The rapid rate of technological advancements and massive investments by the healthcare industry into the IT development and digitization have been key factors for the monumental growth of the healthcare analytics industry. The analytical platforms which are currently being deployed by healthcare institutions across the globe, help in patient management, their retention, due to which better care can be delivered. Deployment of healthcare analytical platforms not only increases the productivity of the staff, but the overall patient management has been improved and the burden on caregivers has been minimized.
Gather more insights about the market drivers, restrains and growth of the Global Healthcare Analytics Market
Healthcare analytics can be deployed for various functions in an establishment, for management of grants and donations given to the hospital, patient records, making appointments, for insurance claims, etc. It can not only improve the quality of care delivered to patients but also give insights for managing overall business establishments, better patient outreach, management of spread of diseases etc. The Grainger College of Engineering, Illinois, developed the Health Data Analytics Initiative as a hub connecting clinical investigators, engineers, AI experts, and data scientists which help in delivering better solutions by improving the quality of research by deploying AI platforms and analytical tools.
Government initiatives and massive flux of money in the healthcare industry are also driving innovation and are responsible for increase in adoption of such analytical platforms by healthcare establishments. Analytical platforms are not only being used by hospitals but other establishments for managing and interpreting clinical data from various studies being conducted; studying historical data and analyzing it to establish trends, developing methods, tools and technologies to get optimal results. These analytics platforms are also being deployed by policy makers for studying statistics and models for making better decisions and policies regarding healthcare establishments and for delivering care to patients. U.S. government has been taking initiatives in this direction like HealthData.gov portal has information from several federal databases on topics such as community health performance, clinical data, medical and scientific knowledge for developers which is accessible by application programming interface.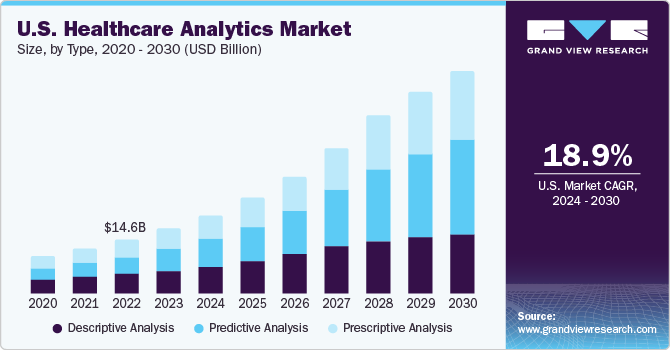 COVID-19 pandemic saw significant growth in the industry due to increase in the need for digital solutions and better analytics tools to manage the patient load on the healthcare industry as a whole. The amount of clinical data generated during the pandemic needed proper management and with the help of analytics tools and platforms, the researchers and professionals will be able to derive better outcomes, predict trends and understand the dynamics of spread of disease much better.
Healthcare Analytics Market Segmentation
Based on the Type Insights, the market is segmented into Descriptive, Predictive, and Prescriptive Analysis.
The descriptive analysis type had the largest market share of 37.1% in 2021. Descriptive analytics has been widely used during the pandemic to study historical data and patient histories to study the spread of virus, which has been a key factor driving growth in this segment.
Predictive analysis was the fastest-growing analytics type due to the fact that it uses data sets created by using descriptive analytics by analyzing data for actionable future insights.

Based on the Component Insights, the market is segmented into Software, Hardware, and Services.
The largest component in the healthcare analytics was the services segment with a market share of 37.1% as of 2021. The healthcare industry has been investing substantial amount of capital in the IT industry for the development of platforms, digitization of data for analytics.
The fastest-growing component type was also services, due to the increase in the patient load on the health industry, increase in disease prevalence etc.

Based on the Delivery Mode Insights, the market is segmented into On-premises, Web-hosted, and Cloud-based.
The largest market share of 49.3% was held by on-premises delivery mode in 2021. Majority of institutions are currently installing software and tools to store data at their own premises due to ease of access and security, resulting in the large market share of this type of delivery.
The fastest growing delivery mode has been cloud based due to ease of storage, less capital investment, and increased flexibility and efficiency, these factors also add up to continuous growth in this delivery mode.
Based on the Application Insights, the market is segmented into, Clinical, Financial, Operational and Administrative.
The largest market share of 35.7% was held by financial applications in 2021. The healthcare institutions and organizations are continually striving to minimize cost of treatment, yet delivering better care to patients, this has been the reason for growth of this segment.

Based on the End-Use Insights, the market is segmented into, Healthcare Payers, Healthcare Providers, and Life Science Companies.
In 2021, the largest market share of 48% was held by life science companies. Currently, the largest users of analytical tools and platforms are the life-science companies for reducing costs of their products, increasing profit margins, and producing better products, which are driving faster adoption and growth in the segment.
The fastest growth was registered by the healthcare providers, this is due to the fact that during the pandemic and even after that, the burden of delivering cost-effective care, better patient management has been tremendous on the hospitals and healthcare professionals, this has resulted in the growth of this end user segment.
Based on the Healthcare Analytics Regional Insights, the market is segmented into North America, Europe, Asia Pacific, Central & South America, and Middle East & Africa.
North America had the largest market share of 49.8% as of 2021. The region has state-of-the-art healthcare facilities with the adoption of these platforms and better technological availability have all resulted in the large market share for North America.
The fastest-growing market was the Asia-Pacific, fast development, more spending capacity, and growing population have all resulted in the fast growth registered by APAC. There have been significant growth and advancements in the industry in this region, which has also contributed to its growth.
Browse through Grand View Research's Healthcare IT Industry Research Reports.
Surgical Instruments Tracking Systems Market – The global surgical instruments tracking systems market size was valued at USD 187.67 million in 2021 and is expected to grow at a compound annual growth rate (CAGR) of 12.1% from 2022 to 2030. The growing number of surgical procedures, owing to sports injuries, accidents, and cardiac surgeries, due to the increased frequency of cardiovascular illnesses and other chronic disorders, where surgery is mandatory, is driving the market.
Healthcare IT Market – The global healthcare IT market size was valued at USD 135.6 billion in 2021 and is projected to exhibit a CAGR of 29.3% in the forecast period. The growing trend of digitalization in healthcare, rising demand for preventive care solutions, the emergence of various entrepreneurship ventures, and growing partnerships & funding are propelling the market growth.
Market Share Insights:
July 2021: Enlitic (US) partnered with NMC Healthcare (UAE). This is a multi-faceted partnership with private healthcare companies to incorporate Enlitic's solutions in GCC countries.
June 2021: Flatiron (US) Partnered with Foundation Medicine, Inc. to integrate its solutions with OncoEMR to offer integrated genomic profiling to customers.
Key Companies Profile:
Key players in the industry are constantly innovating and bringing up new technologies to better understand data derived from patient information, understand the spread and containment of the disease, etc. to deliver better care solutions to healthcare providers and institutions.
Some of the prominent players in the global healthcare analytics market include:
McKesson Corporation
Optum, Inc.
IBM
Oracle
SAS Institute, Inc.
IQVIA
Verisk Analytics, Inc.
Elsevier
Medeanalytics, Inc.
Truven Health Analytics, Inc.
Allscripts Healthcare Solutions, Inc.
Cerner Corporation
Order a free sample PDF of the Healthcare Analytics Market Intelligence Study, published by Grand View Research.
About Grand View Research
Grand View Research, U.S.-based market research and consulting company, provides syndicated as well as customized research reports and consulting services. Registered in California and headquartered in San Francisco, the company comprises over 425 analysts and consultants, adding more than 1200 market research reports to its vast database each year. These reports offer in-depth analysis on 46 industries across 25 major countries worldwide. With the help of an interactive market intelligence platform, Grand View Research Helps Fortune 500 companies and renowned academic institutes understand the global and regional business environment and gauge the opportunities that lie ahead.
Web: https://www.grandviewresearch.com
Media Contact
Company Name: Grand View Research, Inc.
Contact Person: Sherry James, Corporate Sales Specialist – U.S.A.
Email: Send Email
Phone: 1888202951
Address:Grand View Research, Inc. 201 Spear Street 1100 San Francisco, CA 94105, United States
City: San Francisco
State: California
Country: United States
Website: https://www.grandviewresearch.com/industry-analysis/healthcare-analytics-market